Game Downloads
You're located in category:
Crazy Cars 3
Review 1:

Well, this is just one of my favourites when it comes to driving games! The game is a bit like the game Death Rally, but it's less dark and agressive. There are some races in which you can compete against 19 other drivers. It's on a normal road, so there are also cars not joining in the race who will obviously drive 3 times slower. You will gain enormous speeds like 272 Km/h in the beginning of the game and after upgrading your car a few times speeds like 320 Km/h and even faster. Before the race you will meet your direct rivals, if there are some. Mostly there are 3 or 2 of them. You can bet some money on winning the race. Upgrading your car costs money, but beware that you keep enough money for your races, because it costs money to enter them.

The graphics aren't very impressive, the sounds are not what you would expect of a game, the gameplay is not perfect, but the game itself is cool. Just cool! If you like this game, maybe you should also try the games Street Rod 2 and Death Rally.

Review 2:

In the third and final installment of the Crazy Cars trilogy, race your Ferarri in several USA locations to prove you are, once and for all, the hotshot you say you are.

Gameplay is expanded on from the previous two titles by adding the ability to climb (or fall down) the rungs of a division ladder, upgrading your car, and betting on a race's outcome to increase your available cash.
Download full game now: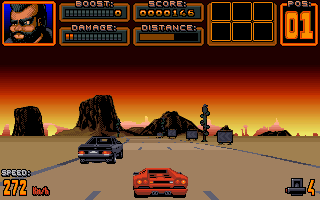 Crazy Cars 3 screenshot
People who downloaded this game have also downloaded:
Micro Machines 2, Test Drive 3: The Passion, Sim City 2000, Street Rod, SimTower