Game Downloads
You're located in category:
Chuck Yeager's Advanced Flight Trainer
This is the first version of Edward "Ned" Lerner's Chuck Yeager's Advanced Flight Trainer, a popular non-military flight sim. The game lets you test pilot 14 different airplanes in different modes: racing, formation flying, and stunt flying to name a few. Although it is naturally graphically primitive compared to version 2.0, AFT makes the best out of a 4-color CGA pallete, producing crisp polygon-based buildings and terrain. The game has numerous helpful features that set the standard for the genre, including the "black box recorder" used to replay your flights, multiple viewpoints, Chuck Yeager's sage advice during flight, and many more. Each plane has its own characteristics and flight dynamics that you need to handle correctly to succeed, and the game keeps a detailed record of your progress. Overall, AFT is definitely one of the early pioneers in the niche genre of civilian flight sims, although since Version 2.0 (also on this site) surpasses it in every way, this early version is recommended for its nostalgic/historical value only.
Download full game now: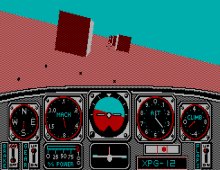 Chuck Yeager's Advanced Flight Trainer screenshot
People who downloaded this game have also downloaded:
Chuck Yeager's Advanced Flight Trainer 2.0, Chuck Yeager's Air Combat, Airline Simulator 97, F-15 Strike Eagle III, ATF: Advanced Tactical Fighters