Game Downloads
You're located in category:
Campaign II
Veteran wargamer M. E. Brooks spares no punches in his criticism of this inferior sequel to ambitious Campaign:

"This simulation of modern conflict took a mediocre gaming system (Campaign) and completely flummoxed it. Covering hypothetical battles, this also portrayed Korea, Israel (1967/1973), Vietnam (1962), Iran-Iraq (1980s) and the Gulf (1991). The simulation's strongest aspect was its task force organization (reminiscent of Patriot), but its historical accuracy was abysmal. The 1962 Vietnam scenario showed South Vietnamese and American Corps arrayed against the North Vietnamese Army in a conventional confrontation; in 1962, the U.S. had less than 1500 advisers in-country. In summary, the history was non-existent, the lessons of warfare more akin to race car driving and the overall level of enjoyment approaching that of a moderate case of hemorrhoids. At least it did not rewrite the hard drive ... " Ouch. Worth a look only if you like alternate history games, or want to try a fancy 3D tank simulator that bears no resemblance to reality but offers a bit more complex gameplay than the likes of Carrier Command.
Download full game now: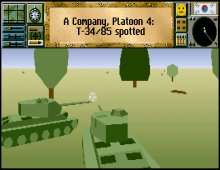 Campaign II screenshot
People who downloaded this game have also downloaded:
Campaign, Business Simulator, Carrier Command, Airline Simulator 97, Great Naval Battles 5