Game Downloads
You're located in category:
Windwalker (a.k.a. Moebius 2)
Sequel to the below-average Moebius, this game features vastly improved arcade-style combat and traditional RPG elements, set in the intriguing Chinese lore filled with demons and warlords. You play a lowly fisherman recruited by Moebius the Windwalker from the first game, who must follow his destiny by embarking on a journey into a fascinating world full of ninja assassins and magical creatures. The annoying side-scrolling combat interface of Moebius has been substantially improved in this game, with smooth animations, a wide variety of acrobatic maneuvers you can perform, and excellent digitized sound. The story, however, --or a lack thereof-- is still a weak amalgam of Oriental lore and obscure superstition, and the hundreds of characters you can converse with hardly shed light on anything. Still, it's a fun and different kind of RPG, and the types of character advancement you can gain (with such Oriental overtones as "balance" and "spirit") are a lot of fun to gain and watch how they affect your fighting skills and other characters.
Download full game now: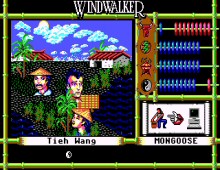 Windwalker (a.k.a. Moebius 2) screenshot
People who downloaded this game have also downloaded:
Ultima Underworld: The Stygian Abyss, Ultima IV: Quest of The Avatar VGA, Ultima IV: Quest of the Avatar, Wasteland, Worlds of Ultima: Savage Empire