Game Downloads
You're located in category:
Vampyr: The Talisman of Convocation
One of the best early EGA RPGs, Vampyr: The Talisman of Invocation is a top-down, single-player RPG in the same vein of Ultima IV, set in the fantasy world of Quilinor. The plot is nothing to speak of (as an adventurer, you must save the world from a certain destruction), but what makes Vampyr quite a lot of fun is the polished coding and a nice balance between combat and exploration. As in other RPGs, you will fight monsters, cast spells, pick locks or pockets, and talk to NPCs to get the information on what you need to do next. The gameworld is quite large for a freeware game, and the game is not easy. The graphics are more than adequate, and the game has a few pleasant surprises that will make you want to see what happens next. Not a must-play game, but a competent gem that is well worth a look by fans of the genre. Recommended!
Download full game now: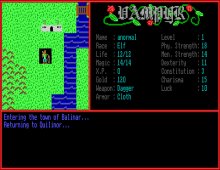 Vampyr: The Talisman of Convocation screenshot
People who downloaded this game have also downloaded:
Ultima IV: Quest of The Avatar VGA, Zelda Classic, Worlds of Ultima: Savage Empire, Ultima IV: Quest of the Avatar, Ultima Underworld: The Stygian Abyss