Game Downloads
You're located in category:
Swing
Swing is one of the better Tetris clones released commercially. The falling block routine remains the same, but made much trickier by the addition of weight element. Your goal is to match three or more balls of the same color to make them disappear, as they fall down to a number of balances/swings at the bottom. The fact that each balls has different weight makes things more challenging, because naturally heavy balls would tilt the swing if the balls on the other end of the balance are relatively lighter. Tilt it enough, and the lighter balls will pop out of the balance and go flying around the screen.

The gameplay is even more complicated when 'rogue balls' start to drop. These have special affects that will either help or hinder your efforts. The rogue balls make two-player splitscreen game a lot of fun, because you can flip them into your opponent's screen too cause all sorts of havoc. On the downside, the game has an annoying bug whereby sometimes your high score is not recorded on the high score table. Also there are inexplicably many pauses during the game, which break the game flow and are nothing but a nuisance.

If you enjoy Tetris, you will definitely like Swing. It is much harder, more varied, and breathes new life in to the familiar formula with many original features.
Download full game now: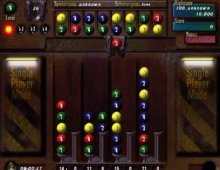 Swing screenshot
People who downloaded this game have also downloaded:
Marble Drop, Lose Your Marbles, Microsoft Entertainment Pack: The Puzzle Collection, Xixit, RoboCrush