Game Downloads
You're located in category:
Star Trek - The Next Generation: Trivia - Volume 1
Review 1:

What color are the eyes of Data? What is the name of Riker's father? - And those are only 2 of the easiest questions. This trivia game contains 100 questions - a must for every Star Trek TNG fan. I for myself found most of them hard to answer - they are often very hard and rely on your knowledge of the english original (esp. the names of the episodes) too often in my opinion. A nice game anyway, but not as good as Trek Trivia - the trivia game concentrating on the original Star Trek series.

Review 2:

The follow-up to Star Trek: The Trivia Game is based, appropriately enough, on Star Trek: The Next Generation series. The game is still text-based with hardly any graphics to wow over (but then, who needs any?), but this time there are many more questions on diverse topics that range from flora to anecdotal knowledge.
Download full game now: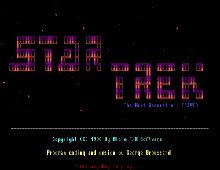 Star Trek - The Next Generation: Trivia - Volume 1 screenshot
People who downloaded this game have also downloaded:
Star Trek: The Trivia Game, Star Trek: 25th Anniversary, Super Jeopardy!, Star Trek TNG: Klingon Honor Guard, Star Trek TNG: The Transinium Challenge