Game Downloads
You're located in category:
Silence of the Chicks
Silence of the Chicks is a superb puzzle game by Oren Bartal, maker of Ultimate Super Stack, a classic QBASIC game reviewed elsewhere on this site. The goal is simple: as a sheep, you must catch the required number of chicks (the number is shown at the top of "chick gauge" at the bottom of the screen) before exiting each level. You basically use only the arrow keys to play the game: left and right to move, and up to jump. The graphics is simplistic - amateurish, even. Everything looks like paper cutouts rather than proper animals, actually ;)

But don't let the simple graphics or easy controls fool you: SOTC is one of the most clever puzzlers I have come across in some time. The levels start out easy - in fact, the first few are nicely-designed tutorial levels that teach you how to play the game and offer some tips - but after level 8 or so, you will start having to think carefully. Since you don't need to catch all the chicks you see to exit the level (only the required number), it is important to differentiate between "red herring chicks" (i.e. chicks in impossible places that you can never catch) and the real victims. Timing and reflexes also become important in later levels, but the precision required is not so maddeningly impossible as to discourage non-action gamers. If you are interested in a refreshing puzzler that is easy to learn but will take hours to finish all of its 50 levels, SOTC is well worth your time. It may not be original or unique, but it is a good example of how addictive puzzle games can get with devious level designs and an intuitive interface.
Download full game now: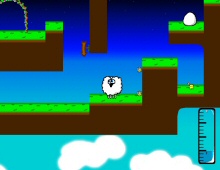 Silence of the Chicks screenshot
People who downloaded this game have also downloaded:
Incredible Machine, The, Ultimate Spin Doctor for Windows, Humans, The, Humans 2, The, Tile World