Game Downloads
You're located in category:
Rockford
Review 1:

Taken directly from the Boulder Dash series, Rockford is ready to collect diamonds and complete hundreds of levels again! This time he's not alone though, as a few other people will be collecting valuable items as well.

There's not much to say. If you know Boulder Dash, you know Rockford. Just move around, avoid boulders and collect items. Sounds easy? Eh... amateur! :)

Review 2:

Remember the great BoulderDash which you played so much on your Commodore 64? Well get ready to play an almost identical game again and experience some great gameplay again. Rockford was originally based on Boulder Dash but offers different themes on each level from a kind of Indiana Jones theme to a space theme.

The game is pretty simple where you have to pick up as many diamonds as you can before the time run out. A good game if you are into arcade games.
Download full game now: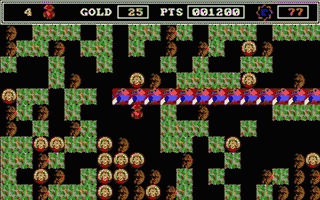 Rockford screenshot
People who downloaded this game have also downloaded:
Incredible Machine, The, Lemmings 2: The Tribes, Humans 2, The, Incredible Machine 3.0, The, Lemmings for Windows 95