Game Downloads
You're located in category:
Robot Puzzle
Robot Puzzle is a neat little brainteaser from NZP. The plot, which seems superfluous for this kind of games, goes as follows: "The POLARIS spaceship is rapidly approaching Mars. Captain Corbett prepares the XTR-4, earth's most advanced robot, for a surveillance mission on the planet's surface. A problem arises however, when Captain Corbett fails to recall the correct assembly sequence for the XTR-4 activation disks. Unless the disks are correctly aligned within the XTR-4 unit, the robot will fail to activate, and earth's most important mission will be a failure! Can you help activate the XTR-4 robot before the POLARIS reaches Mars?"

Your goal in the game is to align 4 discs and rotate them to show all 12 gears through the holes when all 4 discs are placed on top of one another. Good, clean graphics and intuitive interface makes this a great computer version of a brainteaser you usually find in toy stores. Too bad there is no random option, so once you solve the puzzle there is no reason to play it again. Still, it's a lot of fun while it lasts.
Download full game now: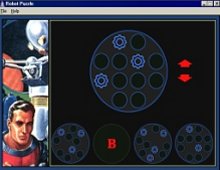 Robot Puzzle screenshot
People who downloaded this game have also downloaded:
Mathtris, Quadrax, Lemmings for Windows 95, Revelation, Lose Your Marbles