Game Downloads
You're located in category:
Puzznic
Review 1:

Another exquisit Puzzle game from the year 1990. A little bit of Tetris in here, but the game is more complex than the old classic. Basically you "just" need to bring two (or more) pieces of the same kind next to each other and they vanish - once you made all the pieces disappear you won this level. But this is not as easy as it may sound. Always watch out for gravity - if you push a piece over the edge it won't go back up there again! The game gets more tricky when you have to make 3 pieces of one kind disappear at once because otherwise you would have a single one in the end that won't vanish. There are also moving blocks that you have to use as a lift or just have to avoid because they are blocking your way. There are lots of levels and just like in Outrun you can choose your way through them on something like a roadmap.

This game is sure to tickle your brain and it's good fun. It instantly rose to become one of my favorites of this genre.

Review 2:

Decent conversion of Taito's coin-up puzzle/logic game done by Banana Development, an independent studio that ported a lot of arcade/non-PC games to the PC. A fun puzzler where you have to eliminate blocks by moving two or more of the same kind together. Puzznic is neither original nor devious, but still has enough good old-fashion gameplay inspired by classic Sokoban and traditional tile-matching game to capture anyone's interest for a while. Software Creations' Amiga version looks, sounds and plays better - but this PC version is still an addictive game. The game is a bit on an easy side, as I was able to finish it in a few sittings, so puzzle experts may find it a waste of their time. Newcomers to the genre and Sokoban fans will like this game a lot, though.
Download full game now: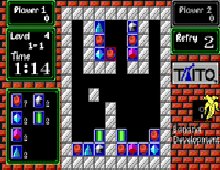 Puzznic screenshot
People who downloaded this game have also downloaded:
Marble Drop, Lemmings 2: The Tribes, Lemmings, Enigma (2003), Humans, The