Game Downloads
You're located in category:
E-Motion (a.k.a. Game of Harmony, The)
E-Motion (E for Einstein) is a nice little action-strategy game developed by The Assembly Line with fairly original gameplay. Quite hard to master, so probably not suited for everyone. The US release by Accolade was called The Game of Harmony, which is the same game, just with a different title screen.

We all know how extremely boring our science lessons are (or were) at school, but this game makes science rather more interesting. You control a skimmer which you use to collide atoms and molecules together so they annihilate each other, but if run out of time, the atoms will reach critical mass and you'll lose a life. Also, if two atoms of the same colour come together, a new atom will be produced. The graphics are quite nice, even though there's not all that much to see! There isn't much sound either, but it's still reasonable. It is quite a good game, but it's a bit too tricky for my liking. Recommended if you like the likes of Atomino, or other challenging block-related puzzlers.
Download full game now: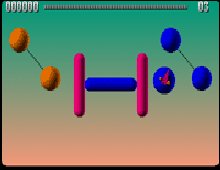 E-Motion (a.k.a. Game of Harmony, The) screenshot
People who downloaded this game have also downloaded:
Lode Runner: The Legend Returns, Lost Vikings, The, Even More Incredible Machine, The, Lemmings 2: The Tribes, Enigma (2003)