Game Downloads
You're located in category:
Cubots
A nice PC clone of Daleks, classic Macintosh puzzle game. For an explanation of what Daleks is, here's excerpt from my review of DRroboWHOids, an older clone for DOS: "In this game, you must help that ingenious time traveller, Doctor Who , avoid ever-growing swarms of your arch-enemies, the Daleks. You are armed only with your trusty Sonic Screwdriver, an ability to teleport to random destinations, and your wit. Basically you must maneuver so that the Daleks crash into each other. The Sonic Screwdriver is a handy little device that destroys any Daleks adjacent to you, but will only work once. You are given a limited number of screwdrivers at the start of each level, with new ones awarded upon level completion. When all else fails, you can make a "final stand," allowing the Daleks to keep moving until either you or all the Daleks have been killed."

Pleasant graphics and very faithful gameplay to the classic Daleks make Cubots among the best conversions of the Mac classic. While the robots are predictable, their sheer number and limited screwdrivers make the game challenging to every puzzle fan.
Download full game now: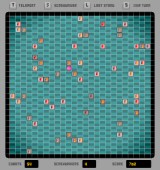 Cubots screenshot
People who downloaded this game have also downloaded:
Cubots, Drain Storm, Dimo's Quest, Chagunitzu, Diabolika 2