Game Downloads
You're located in category:
Bugbomber
Bugbomber is a fun and huge puzzle games that features 50 levels of addictive gameplay for either one or up to four players. A clone of Bomberman, Bug Bomber adds to the already addictive gameplay with special blocks and fun two-player mode. Your objective is to change the color of special blocks that are scattered across the screen, while destroying enemies with bombs. The game even has a plot: you are assigned to debug a computer. Naturally, the bugs (groan) come out to thwart you in every way they can.

In the single-player mode, Bugbomber becomes boring after a dozen or so levels, because the 50 level are not that different from each other. The multiplayer mode is where the game boasts more long-term play value. If you have the appropriate adapter, you can even play with up to 3 other friends in a tournament mode. All in all, a fun puzzle game, although it is disappointing that the huge number of levels is not matched by enough diversity to make it more fun. A lot of fun in multiplayer mode and reasonably fun in solo-player mode - before you get bored with the sameness of levels.
Download full game now: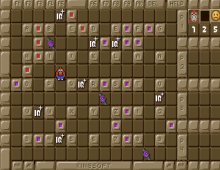 Bugbomber screenshot
People who downloaded this game have also downloaded:
Cannon Fodder, Lemmings 2: The Tribes, Cannon Fodder 2, Block-O-Mania, Chaos Engine (a.k.a. Soldier of Fortune)