Game Downloads
You're located in category:
Bluppo
Bluppo is a great clone of Boulderdash that offers a lot more features than the First Star classic, including new ideas, excellent graphics and sounds, 160 large and tricky levels, a lot of colorful characters, and more.

The goal of the game is to collect certain number of fish in order to exit to another level. In the meantime, you must avoid falling boulders and nasty sturgeon. And if that's not bad enough, you also must conserve oxygen. The scrolling playfield features great graphics and music and supports two players simultaneously. The early levels are easy, but the game becomes difficult quite quickly, and soon you will be scrambling to plot the quickest way to the exit before your oxygen runs out.

With hundreds of levels, attractive VGA graphics, and a challenging yet addictive gameplay with numerous devious levels, Bluppo is no doubt one of the best Boulderdash clones I have ever come across. If you like Boulderdash and similar games, you will definitely enjoy this rare shareware old game.
Download full game now: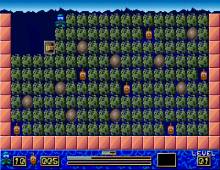 Bluppo screenshot
People who downloaded this game have also downloaded:
Bombuzal, Boppin Deluxe, Boston Bomb Club, Baku Baku Animal, Block-O-Mania