Game Downloads
You're located in category:
Puyo Puyo 2
Puyo Puyo 2 is a great sequel to Puyo Puyo, one of the best Tetris-style game that inspired numerous clones on its own. The gameplay remains the same as the first game: colored cartoon jelly blobs fall from the sky in pairs, and your goal is to connect four blobs of the same color together to make them explode, making any blob above them to fall down. At the same time, you must compete against an opponent (either computer or another human player) who is trying to do the same thing. Every time a group of jellies explode, a transparent jelly will fall in your opponent's playing field, making his/her job more difficult. You can also set up chain reactions by arranging the blobs in such a way that one color combo will lead to multiple combos as blobs fall into place.

Puyo Puyo 2 adds new gameplay options and special blobs. One of the most devious additions is the double transparent blob, which require TWO color combos to vaporize. Compile has also added an option to watch matches between computer experts, and more multiplayer options. Overall, if you like Puyo Puyo, you will love this sequel. And if you have never tried the game before, you can't miss this fun old game that was never released in Europe and the U.S.

Note: the version for download here is the Korean version, published by Korea division of Compile. Unfortunately there is no English version of any Puyo Puyo games (now up to the fourth, released for the Dreamcast).
Download full game now: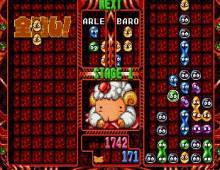 Puyo Puyo 2 screenshot
People who downloaded this game have also downloaded:
Puyo Puyo, Jurassic War, Mario's Game Gallery, Fighters Kyodotai (a.k.a. Fighters Kototai), Lords of The Realm