Game Downloads
You're located in category:
Championship Manager Italia
Review 1:

This is the Italian version of Championship Manager 1, and if you're into Italian footie, this is the game for you. Although it's a revision of CM1, it's greatly enhanced. An utterly playable game, albeit the player datas are of course a bit out of date today.

Review 2:

One of the first manager games expanding from the somewhat standard English leagues. Championship Manager Italia added new standard for football manager games by offering the most detailed game of the Italian football leagues including both Series A and B and having teams from Series C as well.

Championship Manager Italia was together with the original Championship Manager the first game to offer detailed statistics about each player in each club for every series in the Italian leagues. You can see 9 different stats for each of your players, the preferred position and whether they are right or left footed. You can setup pretty much any tactic you want to including telling your players to make forward runs if you want them to be more offensive in their play style. Other manager features include management of the staff, negotiating with the players, player purchases and decisions regarding how the players are doing and their discipline (you can give players a raise, fine them and much more).

The match engine is simple only displaying text whenever something happens in the match. This is what that scared away many current football manager fans as they were used to the regular match engine seen in many other games where you could view the actual players running around on the stadium. But this was also what that made Championship Manager Italia different and its today one of the reasons why Championship Manager is the most popular football manager series. This game is recommended for all football manager fans and if you are one of the people that like statistics you will love Championship Manager Italia.
Download full game now: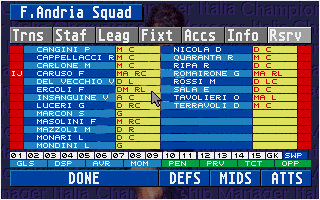 Championship Manager Italia screenshot
People who downloaded this game have also downloaded:
Championship Manager 2, Championship Manager '93, Sensible World of Soccer 96_97, Lords of The Realm 2, Railroad Tycoon Deluxe