Game Downloads
You're located in category:
Pinball Wizard 2000
Pinball Wizard 2000 is an excellent application that allows you to create and play your own pinball tables. Although the English version was never made, this German game is not difficult to understand and use, thanks to the fact that most menu items are in English.

Compared to 21st Century's better-known Pinball Construction Kit, Pinball Wizard 2000 is a bit harder to use, but it is a more powerful and versatile program once you become familiar with the interface. You can use your own graphics to decorate the table after choosing the general layout. The game features an ingenious way of letting you manipulate the graphics: all table graphics are separated into 3 layers - one for the background and the table field (floor), another for coloring structures like ramps, walls and targets, and the last for placing helplines and experimenting. Naturally, you will be able to place place ramps, bumpers, and targets wherever you want on the table. You can even create elaborate combinations that will award the player with millions in bonus points. And at the end of the day, you can save your work and play it like a normal pinball table. Pinball Wizard 2000 includes 3 complete tables as examples, and they are quite a lot of fun to play.

If you like making pinball tables, Pinball Wizard 2000 is well worth your time. Graphics and gameplay sophistication cannot match the more recent classic Visual Pinball, but it was ahead of its time in 1996, and remains highly playable years later.
Download full game now: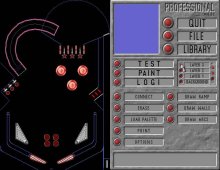 Pinball Wizard 2000 screenshot
People who downloaded this game have also downloaded:
Pinball Illusions, Electronic Pinball, Pinball Fantasies, 1830: Railroads & Robber Barons, Full Tilt! Pinball