Game Downloads
You're located in category:
Biing!
Similar to Bullfrog's better-known Theme Hospital, Biing! is a humorous German—only business simulation about running a hospital and making money by treating patients from more or less weird illnesses and injuries. But that's where the similarities end.

The first, and most important, difference is that Biing! is definitely a game for adults only, even by liberal European standards. When you play it first, you (especially as a male player) can while away the time by clicking all nurses to undress them. Not exactly a strategic or business decision ;)

Second, in Biing! it is hard to survive even a single day (not to mention to win the game). You have to have an at least a balanced bank account at the end of each day. With running cost for personnel and rent, the need to buy equipment and patients who come into to your clinic rather randomly, it took me one (real life) week to survive two (in game) day for my first game. And even when you eventually have your clinic doing fine, one wrong decision can push you into bankruptcy (as happened to me when I bought an ambulance car too early after about 40 hours of playing).

Third, the game has almost no animations, and the pictures do not change with different equipment, so the only way to find out if a certain device is in a room is to check the equipment menu. Same with personnel: You will see doctors or nurses, no matter if they are in the room or not, so you have to click them with your mouse to find out if they are still doing their job or having a break or sleeping at home. The graphics are drawn in the typical German comic style, and except of the aforementioned possibility to strip the nurses, nothing really worth mentioning.

Last, but not least, the game demands a good command of the German language since it never was published in English and the gameplay itself is rather text intensive.

To sum it up: Biing! is neither a Top Dog nor a Real Dog. If you are a German speaker, have an interest in a (somewhat raunchy) hospital simulation, and found Theme Hospital too easy, then it's probably your cup of tea. All the rest of us would do well to stick to the more playable and forgiving Bullfrog classic. For what it's worth, reLINE later released the sequel Biing! 2 which adds even more -err—revealing graphics of nurses while keeping basic gameplay more or less the same.
Download full game now: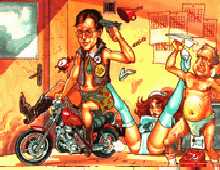 Biing! screenshot
People who downloaded this game have also downloaded:
Mad TV 2, Civilization, Startopia, Life and Death 2: The Brain