Game Downloads
You're located in category:
Time Riders in American History
Another outstanding edutainment title from The Learning Company, Time Riders in American History teaches history of the United States in such a captivating way that kids will not realize that they're learning something :) Designed for kids ages 7 to 12, the game's educational content is much more in-depth than the ever-popular Where in Carmen Sandiego? games, with many photos, interesting anecdotes, and colorful historical characters. As in most other games from TLC, mini-games are arcade-oriented integrated with historical facts, and are not too difficult. As always, on-line hints provide ample help for young historians should they get stuck. Overall, another great old game that was sadly overlooked.
Download full game now: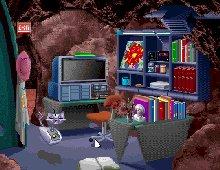 Time Riders in American History screenshot
People who downloaded this game have also downloaded:
Where in Time is Carmen Sandiego?, Where in The World is Carmen Sandiego? Deluxe Edition, Where in America's Past is Carmen Sandiego?, Where in The USA is Carmen Sandiego? Deluxe Edition, Super Solvers: Gizmos & Gadgets