Game Downloads
You're located in category:
Spider-Man Cartoon Maker
Spider-Man Cartoon Maker is a fun Windows 95 application that brings Spider-Man and his universe to life on your computer screen. Designed primarily for kids, the program is easy to use, and the possibilities are staggering. You can create animated Spider-Man cartoons by choosing characters, scenery, and other objects, and then add colors, animations, sound effects, and comic-style word balloons.

There is a good variety of background graphics, ranging from familiar locales such as the Kingpin's Headquarters, to generic locations such as the underground subway tunnel. You will then stamp in props to set the stage, and pick characters to animate. You can make make Spider-Man leap from roof to roof, or set a battle in motion between the hero and Venom, Green Goblin, Kraven the Hunter, and other famous villains. Before you finish, you can add comic-book sound effects such as "Bwam!," "Zizzt!," "Fwoosh!," and many more (I must confess that I have never realized how some of these words are actually pronounced before now ;)). You can even use a microphone to narrate the story, and give the villains exciting dialogue via word balloons. Last but not least, you can add soundtrack to your work, and then save it in a stand-alone format that can be viewed by anyone without the program. If you have a budding artist in the house, or if you are a fan of Spider-Man, Spider-Man Cartoon Maker provides for many a fun evening of creativity. Recommended!
Download full game now: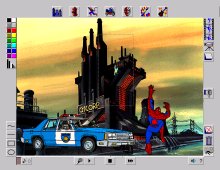 Spider-Man Cartoon Maker screenshot
People who downloaded this game have also downloaded:
Oregon Trail Deluxe, Where in The World is Carmen Sandiego? Deluxe Edition, Where in Time is Carmen Sandiego?, Where in The USA is Carmen Sandiego? Deluxe Edition, Storybook Weaver