Game Downloads
You're located in category:
Rock & Bach Studio
Review 1:

The last release from underrated edutainment developer Electronic Zoo is a great all-in-one music game and application with virtually unlimited playability. Rock & Bach Studio has two major components: music education, and music making. As part of the music education component, kids can read up on an excellent synopsis of the music pieces that comprise an orchestra. For each instrument, the game shows where it is in the orchestra, what it looks and sounds like, what its sound wave looks like, and a short history and explanation. The basics of musical notations are also included, so kids will learn for instance what a treble looks like, and how the F major scale is different from the one in D minor.

The second major element of the program is the music making part. Here is where the fun begins: kids can choose the various cartoon characters to form their band, give the band a name, then head off to the studio when they will be able to "compose" songs by choosing from different pre-set riffs, which can be customized to their heart's content. Rock & Bach even offers an option to create and save a music video by matching songs with backgrounds, character animations, and various visual efects. Overall, Rock & Bach a fun music activity for kids that teaches as much as entertains, and allows kids to make their own music that covers a wide spectrum of styles -- from Back to Rock 'n Roll, of course ;) Highly recommended!

Review 2:

Well, in my opinion, this game has nothing to do with rock, but that's just my opinion. This game is really for the somewhat older kids, with somewhat older I mean around 10 or 12 years old. In this game you are a manager who tries to make songs for his band. You pick your band and layout and choose and build songs for your band. You can build a light show, you can make a video and much more! The game is ok, all sounds are done in midi, so it's not really the most convincing quality of songs, but the idea is there. The game is not too hard for a little kid, but he or she could use some help at some things. Some parts of the game are way too complex for a kid to understand, I think.

Overall, a good game, it could have had some more attention at the sounds and the gameplay part, but overall, this is a very good game.
Download full game now: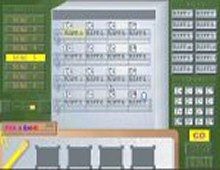 Rock & Bach Studio screenshot
People who downloaded this game have also downloaded:
Piano, Where in The World is Carmen Sandiego? Deluxe Edition, Where in The USA is Carmen Sandiego? Deluxe Edition, Widget Workshop, Super Solvers: Spellbound!