Game Downloads
You're located in category:
Redhook's Revenge
Review 1:

Redhook's Revenge is a fun and educational game of life on the Caribbean seas of yore. Billed as "pirate educational board game," Redhook's Revenge fulfills every word in its claim: it reasonably simulates a pirate's life (sail, dig for treasure, fight other ships, and plunder towns) using attractive board-game format. Dice throws dictate how many 'spaces' on the sea your ship can move, and you must answer trivia questions from time to time to proceed. In short, the game combines classic Treasure Island with the best elements of Monopoly and Trivial Pursuit into a wholly engrossing and addictive experience that fans of pirate history would not want to miss. Highly recommended, especially to budding historian(s) in your house. Best of all, ImagiSOFT released this formerly shareware game into the public domain in 2004.

Review 2:

This is a pirate board game. Throw with the dice, you can answer pirate questions or get money to buy food for the crew, etc. Good graphics and music!
Download full game now: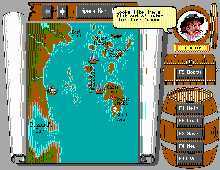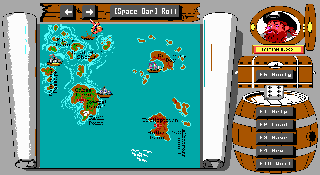 Redhook's Revenge screenshots
People who downloaded this game have also downloaded:
Where in The World is Carmen Sandiego? Deluxe Edition, Oregon Trail Deluxe, Where in The USA is Carmen Sandiego? Deluxe Edition, Galleons of Glory, Pepper's Adventures in Time (a.k.a. Twisty History)