Game Downloads
You're located in category:
Playroom, The
The Playroom is designed to encourage children's curiosity and then reward it with new discoveries. All the scenes take place in a child's bedroom where the child clicks on a variety of different pictures that lead into an activity or animates the picture. For example, if you click on the computer which is in the playroom, it will lead the child to a big computer with all the letter keys. If you hit a letter, the computer will show the child the lower and upper case letter. This enables the child to be able to recognize that letters may be the same, but look different. There are very good graphics on this program. The pictures are all colorful and clear. The sound is optional for the program. It could be turned on or off. There is a light, happy, repetitive melody which kids could hum to as they are working with the program. The two hosts, Ginger and Pepper also speak along with many of the animals. The program allows for printing for the ABC book and the mixed up toy scene. If a child gets confused, there is online help throughout the whole program. There are multiple activities available.

The picture above shows all the active activities. For example, if you click in the ring on the floor, it will show the child 3-d objects. The fish will sing if you click on it and the clock will show different times if you click on that. The little door in the lower right hand corner allows the child to return to the previous scene at all times. If you click on the block, they come to life and show an animation. If you click on the dragon, you can play with a combination of three body parts. This activity allows children to develop the skills of problem solving and creativity. The mousehole is a counting game of three different levels. The first level is for children who can count to four. The second and the third levels are for the children who can count to six and nine. Also in the mosuehole, more than one person can play. The players are represented by a female, Ginger and a male, Pepper. This activity develops counting, number recognition, addition, subtraction, and problem solving skills. The ABC book is a picture of a house with four rooms. In this activity, the child chooses a letter at the top of the screen and this will show a picture that represents the letter picked. The ABC book helps kids with letter recognition, word recognition, creativity and vocabulary. The spinner toy lets the child explore counting, word recognition, vocabulary and creativity. In this activity, the child picks a picture and then chooses a number. The number chosen will show the amount of pictures shown. For example, if the child clicked on a telephone and then clicked on the number two, then two telephones would appear.
Download full game now: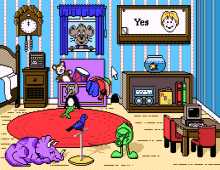 Playroom, The screenshot
People who downloaded this game have also downloaded:
Treehouse, The, Reader Rabbit, Oregon Trail Deluxe, Zoo Keeper, Reader Rabbit's Ready for Letters