Game Downloads
You're located in category:
Cross Country USA
Cross Country USA is yet another excellent edutainment program from Didatech, one of the most underrated education software makers today. The program gets you to pick up various commodities at different cities, and deliver them all to a final destination. In the process, you will drive through various states of the United States, passing such memorable scenes as the Rocky Mountains of Colorado, the fishing villages of Maine, and the cornfields of Kansas.

Similar to the original 1988 version of the game, you will view the action from a first person perspective, behind the wheel. You have to carefully monitor your gas gauge, windshield wipers, and lights, and take appropriate action when due. Similar to text adventures, you have to type commands such as "turn on truck" to interact with the game. A good map of the USA (included in the game box, but can be easily found on the Internet) is essential to planning your routes.

One of the nicest new additions to this addition of Cross Country USA is the ability for two players to play on the same computer, taking turns in competitive mode. Also, you can even re-assign the commodities in the game to different cities if you are bored of the default arrangement. The command "call for help" is also more useful in this version - an essential action to take should you ever run out of gas, or crash the truck from lack of food or sleep. In addition to keeping an eye out on traffic, weather conditions, and the all-important routes, you also have to eat regularly in the game and fill up the tank every once in a while. Once you have picked up one commodity, the game will give you clues to your next one.

With attractive graphics and a great blend of geography, survival skills, and trivia about US states and cities, Cross Country USA is a great title that will teach kids a wide range of subjects while they are glued to the screen, not suspecting that they are learning something. Highly recommended, especially if you have kids in your house or if you love geography-related trivia.
Download full game now: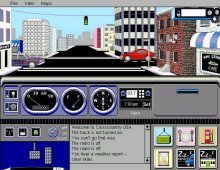 Cross Country USA screenshot
People who downloaded this game have also downloaded:
Where in The World is Carmen Sandiego? Deluxe Edition, Oregon Trail Deluxe, Where in The USA is Carmen Sandiego? Deluxe Edition, Amazon Trail, The, Where in America's Past is Carmen Sandiego?