Game Downloads
You're located in category:
BlockCAD
Review 1:

Isn't this wonderful? A caring parent was so amazed at how fun all those LEGO blocks are and how much his children enjoyed it that he decided to make this highly educational game!

BlockCAD is not much of a game actually, it is mainly meant to encourage kids to show all their talent in making everything and anything using the LEGO blocks. Still, it is very fun for everyone, not only the kids! You are given all the existing LEGO blocks in unlimited supply and all the time in the world to make anything you want. There is also a database with some pre-made objects ranging from small animals up to large castles and whole cities!

BlockCAD is a must have product for everyone who enjoys to be creative. And at the end - be nice and send the creator a single LEGO block if you like this game!

Review 2:

A very interesting but different puzzle game if you can even put BlockCad into that genre. In short this game is only about putting different bricks together. But the brick are not regular bricks but bricks made by the popular Danish company Lego.

There are tons of available selections with both very small bricks but also large blocks. You can also get them in different colours and different things like doors and fences. After a quick look of the available selections it looks like pretty much any block can be added as they have produced in real so you might be able to imagine how many that are included. All of these different bricks can be placed at an area that you have available. The area can of course be increased so once you have learned how the game works you can build some great things as long as you are creative enough. If you still have some of the manual for some of the buildings you should actually be able to build it in BlockCad.

BlockCad is a very nice idea and while it isn't a regular game it offers many options for the creative minded people since almost anything can be made of the Lego bricks. The developer had a very unique idea when he decided to make BlockCad and can only be recommended if you are into these kinds of programs.

Review 3:

BlockCAD is one of those rare programs that make you explain "why didn't anyone think of this sooner?!" when you see it. This is not a game per se, but a very cool model-building program that allows you to use Lego(tm) blocks to build anything you want—and it's not even an official Lego product.

BlockCAD looks and feels a lot like a combination between 2D painting and 3D modeling programs. Like real-life Lego kits, you will start off with a "base" - a flat gray piece where you'll put the blocks on. The interface is very easy to use: just choose a block from the right hand menu, and drop them onto the base. There are arrows at the top and bottom of the screen that let you turn the design, so you can see what it looks like from any direction. You can choose the colors, sizes, and shapes for most blocks, making them large or small, sloped, or even round in some cases. You can even create some new shapes of your own, save the designs, and print them out to show others. The program even includes unique that you can use to build little Lego people - great for designs that look better with people in them, such as a car or an airplane.

If you like the idea of building models but don't like the way Lego blocks look, BlockCAD lets you deal with that too. Once you finish a design, you can turn off the "studs" (those little round pegs that let the blocks stick together). This makes your design look more like a normal drawing. If you want a more in-depth control over your creation, BlockCAD offers advanced tools such as adding shading to individual blocks, or adding background to your design from any picture you have.

Overall, BlockCAD is a modeller's dream come true, and a must-have for all Lego fans. Be sure to visit the official BlockCAD gallery to see amazing pictures of models people have created with the program. This download includes the latest version (v2.1) and the latest parts, but be sure to check the official site regularly for new parts to use.
Download full game now: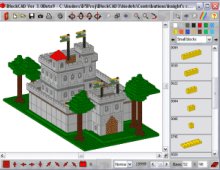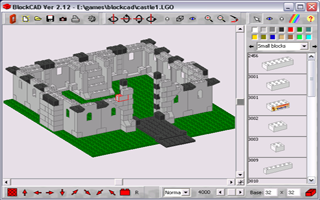 BlockCAD screenshots
People who downloaded this game have also downloaded:
Widget Workshop, AnkerCAD, Where in The World is Carmen Sandiego? Deluxe Edition, Oregon Trail Deluxe, Brain Works