Game Downloads
You're located in category:
Rock it
Review 1:

I can't remember that I have seen any other games ever taking up the popular game that almost any kid will know about. And I'm of course talking about the old and famous Rock-Paper-Scissors game. The game is pretty much following the "official" game rules so anyone that knows the game will be able to play it instantly.

There is one challenge in the game though and that is time. The game is very fast paced meaning that you have to send off your card as fast as possible to get rid of some of the cards going around on the screen. Once you have removed all of them you will get to a new level unless the time stops first as you have then lost. In case you don't know the rules they are fairly simple. Paper beats rock, rock beats scissor and scissor beats paper. In case you use the same against a similar card (like rock against rock) it will be equal and nothing will happen.

No fancy graphics are being used but it is still easy to play. While the game is easy to play it would have been great if it was a bit easier to begin with as well as additional info on how the timing works etc. Still - quite unique as not many games are based on the popular game.

Review 2:

Rock It is a great coffee break gem based onthe mini game 'Chaos Garden' in Sonic Advance, a Gameboy Advance game. Using the arrow keys and spacebar, your goal is to get as high a score as possible by playing a fast-paced rock-paper-scissors game. The graphics are charming, with the cute monkey from Bananarama, Natomic Studio's other brilliant release. If you enjoy a quick game to spend a few minutes with, Rock It is one of the simple yet addictive old games that will keep you entertained far longer than your break time.
Download full game now: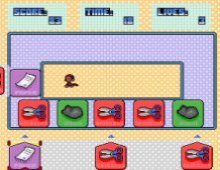 Rock it screenshot
People who downloaded this game have also downloaded:
Rails, Clue: Murder at Boddy Mansion, Metro, Wild Board Games, Modern Art