Game Downloads
You're located in category:
Homas Tour
Homas Tour is the original edition of the cycle racing game later known as Um Reifenbreite. The concise description from Boardgamegeek.com goes as follows: "Translating as "By the Width of a Tire," this game covers a Tour de France-type of bicycle race. Each player takes control of a four-member racing team, and the goal is to score as many points as possible for the whole team. Movement is primarily handled by dice, however in some of the more advanced games, a limited card set partially replaces die results. Once you add unique rules which allow riders to draft one another and multiple kinds of road surfaces, this game has much to offer race fans."

This PC version allows you to play against 3 other opponents, any of whom can be computer-controlled. Like the original board game, Homas Tour manages to capture the feel of the bicycle race quite well, while adding many twists that make it very interesting. In my opinion, the best of these 'twists' is the choice of track: players are slowed down at hills or bad roads, and there will always be the chance of a crash which might make them loose precious time. You even can make use of the possibility to cheat, or allow the assistance car to 'drag' your drivers - if you can accept the risk of this being captured on film, which will lead to disqualification. A good mix of luck (via die rolls and event cards) and strategy (many options during the race), Homas Tour is a must-have for every bicycle fan and fans of simple-but-fun sports-themed boardgames.
Download full game now: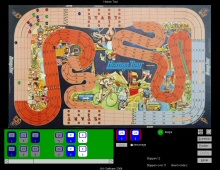 Homas Tour screenshot
People who downloaded this game have also downloaded:
Dogs of War, Metro, Rails, St. Petersburg