Game Downloads
You're located in category:
Goats and Tigers (a.k.a. Bagha Chal)
Goats and Tigers is a solid PC implementation of "Bagha Chal," a little-known board game popular in Nepal and Tibet. I have been looking high and low for a PC version of this very interesting game for months after I returned from my trip to Nepal with a nice bronze board and playing pieces :) This interesting board game is similar to the "Taft" family of Norse games like "King's Table" in giving two sides different pieces and objective. If you control the goats, your objective is to surround the tigers so that they are unable to move. If you control the tigers, your objective is to 'eat' all the goats on the board. The tigers can 'eat' the goats by jumping over it to an unoccupied tile - similar to draughts or checkers. There are less tigers than goats, which balances the fact that goats can only escape tigers. Each side takes turns to place their own pieces on the board until either the tigers eat all the goats, or they cannot move anymore (i.e. there is no empty space left).

This decent computer version represents the goats and tigers as butterflies and moths for some reason, but the concept remains the same. Unfortunately, it only lets you play the goats, although the computer's intelligence as tigers is challenging enough for beginners. If you are interested in unique or obscure board games that are little known in the West, Goats and Tigers is a good addition to your library - although it still doesn't beat the beautiful bronze set that I have. Recommended, but the ability to play as tigers and more gameplay options would have been nice.
Download full game now: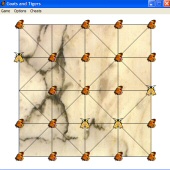 Goats and Tigers (a.k.a. Bagha Chal) screenshot
People who downloaded this game have also downloaded:
Rails, St. Petersburg, Ursuppe, Animal Game, The, Ants