Game Downloads
You're located in category:
Xenon
Review 1:

Xenon was the first game from Bitmap Brothers, a classic vertical shooter that immediately put the small UK outfit on the map. Excellent graphics, catchy soundtrack, and gameplay turned the game into best-seller on Commodore 64 and Amiga systems, although the PC version much less well received.

Like all great SHMUPs, Xenon features smooth controls, well-designed and varied enemy ships , plenty of power-ups, and nonstop action. One neat feature is the ability to change your vehicle from a flying ship to a ground-based tank at any time. This introduces a nice layer of strategy of deciding when to switch your vehicle, because you can only shoot some enemies in the air, and some directly from the ground.

Graphically, Xenon was one of the best-looking in its day, and stands the test of time quite well. Similarly, music and sounds are top-notch - there is even some speech their age a little but the explosions and music are good throughout with even a little speech thrown in (reminiscent of the announcer in Silpheed). I also feel that the difficulty is just right... something that can't be said with most shooters nowadays.

With excellent graphics, sounds, and frantic nonstop gameplay, Xenon is a great start to the career of Bitmap Brothers, and a welcome addition to every SHMUP fan's library. And if you like this game, check out the superior sequel Xenon 2.

Review 2:

In this spaceshooter-like game you can transform into a tank or a spaceship. You have to eliminate all things on your way. The original idea of transforming gives this game something extra to the genre!
Download full game now: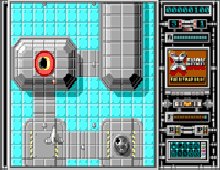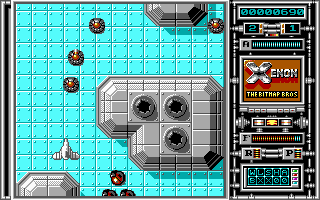 Xenon screenshots
People who downloaded this game have also downloaded:
Xenon 2, Gauntlet, Gauntlet 2, Golden Axe, R Type