Game Downloads
You're located in category:
Toxic Bunny
Toxic Bunny is a fun platformer from Celestial, a small developer based in South Africa. The game plays like a psychedelic version of Epic Megagames' Jazz Jackrabbit. You control a bunny named Toxic who has been transformed from an innocent rabbit into a "bad ass" rabbit in his worst hair day. You will journey through more than 4 large levels as Toxic hunts the person (or animal) who is responsible for interrupting his coffee break, brainwashing all his friends, and covering the planet with disgusting caffeinated goo.

The game looks great in hi-res super VGA graphics, with plenty of textured backgrounds and random weather effects to heighten the atmosphere including lightning, rain, mist, and others. The oft-quoted "multi-directional parallax scrolling" gameplay is very smooth, and you will encounter dozens of enemy types. Your arsenal includes 7 different weapons, as well as many different potion combinations you have to discover on your own - most of which are useful, but some can be lethal. In the final analysis, though, Toxic Bunny lacks the ingenious level design and sense of humor of Jazz Jackrabbit to be a top game, despite boasting superior graphics. But it is worth a look nonetheless for action fans who can't get enough of bunnies with a grudge.
Download full game now: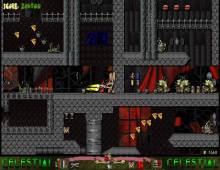 Toxic Bunny screenshot
People who downloaded this game have also downloaded:
Jazz Jackrabbit, Jazz Jackrabbit 2, Jazz Jackrabbit 2: The Secret Files, Electranoid (a.k.a. Arkanoid Replica), Trolls