Game Downloads
You're located in category:
Town Hall Toaster
One of the most unique action games you'll ever see, Town Hall Toaster plays like an expanded version of BBQ, a little-known freeware gem from Japan that is also reviewed on this site. The purpose of the game is to toast various food items such as bread and bagel. To make things more difficult, you must eject food once they are cooked onto platforms that are rotating around the toaster - here in the shape of a town hall. Precise timing and dexterity are keys to success here. The game gives you five pieces of food to toast for each level, and the overall requirement is to have a certain amount of money before the end. You earn money by toasting the food just right and not missing the platforms. Fun, addictive, and unique, Town Hall Toaster is a neat little freeware game you shouldn't miss. The graphics is pleasant too, and watching the buses transport your toasted food is fun. My only gripe is that it is sometimes too difficult to see what's inside the toaster, although the game has x-ray bonus item to help you with that.
Download full game now: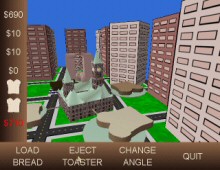 Town Hall Toaster screenshot
People who downloaded this game have also downloaded:
Tintin in Tibet, Shufflepuck Cafe, Tube, Tunnel B1, Ugh!