Game Downloads
You're located in category:
Tempest 2000
Back in the early 1980s, Atari's Tempest was one of the best-selling games on both home systems and in the arcades. Given the current prettier-means-better thinking in the computer games industry, it's no small wonder that Tempest 2000 has not followed the overly ambitious, let's-make-the-game-in-3D trend of some other recent video-game comebacks. Instead, Tempest 2000 tries to preserve the addictive fun while upping the "kinetic ante" of the original. In other words, it tries to compound on the original Tempest's specialty, which is fast-paced, in-your-face noise and action.

To that end, Tempest 2000 succeeds-perhaps far too well. As in the original the game allows players to manipulate a 3-D vortex while avoiding missiles and spikes. There are 3-D enemies, awesome weapons and many visual effects. The game is much, much harder than the 1980s original: webs don't just sit on the screen while you travel around them- they bob up and down and around, which sometimes means that one side of the web or the other is not always visible on the screen. All the original enemies in Tempest are here, plus you now get Mutant Flippers, Demon Heads, and UFO's, all much more aggressive and more elusive than the old enemies. To complicate things, "power-ups" are now sometimes fired at you, and if you catch them, you can get extra points, extra guys, laser beams (which emit a cool noisy effect), and the power to jump in the air and fire down on your enemies. You can even get an AI-controlled robot buddy that will help you in your kill-everything cause.

Tempest was already fast-paced, but it's arguable that Tempest 2000 is just overly frantic. The game is definitely a much more difficult, noisier version of the original. I did get addicted all over again, though, what with the jumping, laser beams, and AI robots that greatly enhance gameplay And, in the end, Tempest 2000 is similar enough in gameplay to the original that it brings back a huge dose of nostalgia. You can even blast your friends in "Duel Mode," or team up in a "Team-Up Mode." Both die-hard fans of the original Tempest and newcomers will have much to like in this souped-up version of the arcade hit, although they should be prepared for some serious thumb-blistering sessions.
Download full game now: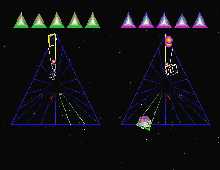 Tempest 2000 screenshot
People who downloaded this game have also downloaded:
Defender, William's Arcade Classics, Wing Commander: The Kilrathi Saga, Gauntlet