Game Downloads
You're located in category:
Stir Crazy Featuring Bobo
Probably the rarest Infogrames game for PC ever made (alongside Sidewalk anyway), Stir Crazy is a nice collection of mini action games based on Bobo, a charming comic created by Belgian artist Paul Deliege. True to the events depicted in the comic, your objective is to help bumbling prisoner Bobo escape the jail - by playing 5 action games that range from arcade fare to a fun 3D racing game. If you enjoy The Honeymooners or Alley Cat, you will probably enjoy the charm of Bobo in this neat little release. The game is faithful to the comic's sense of humor, and all the arcade games are quite fun to play - although they are much harder than they look. Well worth a look whether or not you are fan of the equally rare comic.
Download full game now: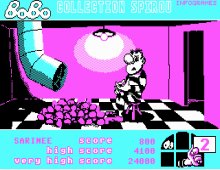 Stir Crazy Featuring Bobo screenshot
People who downloaded this game have also downloaded:
Star Trek TNG: Klingon Honor Guard, Star Castle, Steg The Slug, Star Rangers, S.C.A.R.A.B. (a.k.a. SCARAB)