Game Downloads
You're located in category:
Starship Fight
The objective in Starship Fight is simple: in every zone, destroy all the ground structures (represented by blue squares) to advance to the next; fail by missing too many targets, and you will repeat the level. Every enemy destroyed will leave green dots (called Chips) to collect for better firepower and, every 100, one more unit of energy. There are two types of fire: wide but slow (use CTRL or the space bar), or narrow but faster (use ALT), good for destroying lines of enemies or structures quickly. It's up to the player to choose wisely when it's the right time for one or the other fire. The number of targets to destroy increases level after level, and experienced players will have fun in trying to destroy that damn last target that forced them to repeat the level. It's one of the games that generates a one-more-try syndrome ;)

In addition to the fun simplicity of the gameplay, there's a great retro look: Starship Fight looks and even sounds like an old game from some 8-bit console - I wouldn't be surprised if the music was ripped from some NES game. Overall, a little shooting gem, if you don't mind the (purposely) outdated graphics.
Download full game now: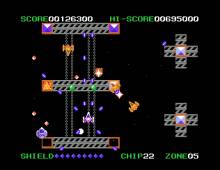 Starship Fight screenshot
People who downloaded this game have also downloaded:
Star Wars II, Super Mario XP, Mario Forever, Star Fox 2, Galaxian