Game Downloads
You're located in category:
Starshift
Starshift is a fun freeware Crazy Taxi-style game from Jetro Lauha, the author of excellent caveflyer KOPS. Your goal in this fun space arcade game is to visit all the platforms on each level to pick up people and drop them off at their target platform. Each time you 'deliver' a passenger, your score increases by one. While you can play alone, it is more fun to compete against 3 other players. You can attack them with weapons and defend with shield (which you can recharge at repair platforms). The player with most points win the round, and the player who wins the most rounds will win the game.

Like KOPS, Starshift boasts smooth animations, intuitive controls, and fun action gameplay especially when you compete against friends. If you enjoy Crazy Taxi or just flying/caveflying games in general, check out this fun old game that was unfortunately dropped after v1.01 (freeware arcade preview), but is still immensely playable.
Download full game now: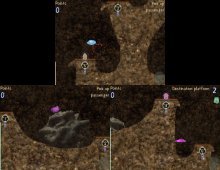 Starshift screenshot
People who downloaded this game have also downloaded:
Stardust, Star Fox 2, Silverball Plus 2, Star Rangers, Jazz Jackrabbit