Game Downloads
You're located in category:
Snake!
Snake! is a great clone of Nibbles with some very innovative concepts, even if the game is ASCII-only with no graphics. There are three modes of play in the game: single player, two-player, and computer. The single player mode is basically the same game Nibbles fans are familiar with: you are a snake that slithers around deviously designed levels, eating food to grow bigger while trying to avoid bumping into any part of your growing body. The objective is to survive as long as possible to get the highest score. After you have grown long enough, you will score at double the previous rate, and special items will also begin to appear. Special items include the "chomp" which allows you to pass through yourself, and the Yen sign that will shrink your snake so you have more room to move, but will also speed your up.

The two-player and computer modes are where Snake! really shines. In two-player mode, you play against another snake controlled by a human player. As in one-player mode, there are targets to eat for points. The difference here is that you can try to force your opponent to eat your tail, which will earn you points as well as shrinking you too. You win this mode by forcing your opponent to eat himself or bang on the wall -- a lot of fun :) The computer mode is similar to the single-player mode, except you play against 4 little computer-controlled snakes which you must avoid at all costs. The computer snakes can die if it bites you or any other snake, or if it hits the wall.

Its age and lack of graphics notwithstanding, Snake! is one of the best Nibbles games I have ever come across. The game is easy to learn but hard to master, with plenty of fun surprises to keep you playing. A lot of thought has been put into the game, down to the design of targets -- instead of generic food that appears at random, in Snake! your score depends on the size of the target, as well as the angle you hit it from. If you hit it exactly on the gate, you get double points. Arcade fans who don't care much for graphics will find hours of enjoyment in this little-known ASCII old game.
Download full game now: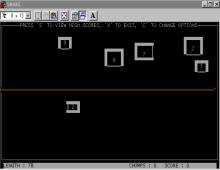 Snake! screenshot
People who downloaded this game have also downloaded:
Frogger, Super Mario XP, Metal Gear Solid, Pizzaworm