Game Downloads
You're located in category:
Santaman
Santaman is a great freeware platformer that deserves to be much better known. The plot: "...The year is unknown. A factory has being used by a gang mutants for a long time and people say strange things are going on there. When Santaman heard about this, he decided to clean up the factory. Equipped with his bazooka, he goes there to see what he can do about it. Santaman is not a hero and the mutants are dangerous, but when it comes to prevent this world from self destruction, Santaman will always do everything he can."

The game is a non-scrolling, old-school shooter in the same vein as Joust or Crazy Taxi. You control a bazooka-wielding Santaman on his way to wipe out all the mutants. Lots of neat power-ups, humorous enemies, and smooth gameplay make Santaman a modern classic. With 10 levels of pure action, Santaman is a fun and fitting tribute to the 80's classic arcade games. The only gripe I have about the game is that you must press a couple of totally redundant keys to start the game - a tribute to "INSERT COIN" and "PRESS FIRE" mechanics of arcade games, no doubt, but still a little annoying. If you like Joust or arcade games in general, check out this neat little game.
Download full game now: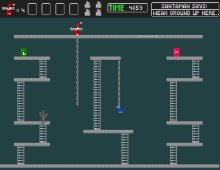 Santaman screenshot
People who downloaded this game have also downloaded:
Highway Patrol II, Contra, CHAMP Centiped-em, Last Defender