Game Downloads
You're located in category:
Sango Fighter 1 (a.k.a. Fighter in China 1)
Sango Fighter 1 and 2 are two excellent side-scrolling fighting games from underrated Taiwanese eveloper Panda are based on the epic Romance of the Three Kingdoms novel (as depicted in KOEI's classic strategy series). The novel's most famous characters are presented faithfully here, e.g. Zhang Fei's moves are powerful but slow, while Lu Bu is faster and more graceful. The story mode allows you to follow plot developments, and in Sango Fighter 2 you can even plan which of the 16 cities to defend and attack in addition to choosing your champion for each fight.
Download full game now: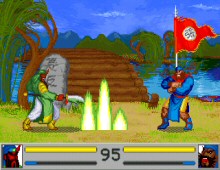 Sango Fighter 1 (a.k.a. Fighter in China 1) screenshot
People who downloaded this game have also downloaded:
Sango Fighter 2 (a.k.a. Fighter in China 2), Super Sango Fighter, X-Men 2: The Fall of the Mutants, Dracula's Shadow (a.k.a. Castlevania 2: Simon's Quest), Shufflepuck Cafe