Game Downloads
You're located in category:
Robocop 2D
RoboCop 2D is an excellent freeware remake of RoboCop, a fun arcade platformer game that was ported to PC by Data East (which you can download from this site). Like the original, you play RoboCop, a cyborg police. Your goal, like in all platform beat 'em ups, is to roam around huge levels - in this case, the streets of Detroit - killing hordes of baddies that get in your way. However, there is a nice diversity that makes the game more interesting than your typical platformer - for example, your goal in one level is to rescue a hostage without harming her.

The game is still as fiendishly difficult as the arcade (and Data East) version, mostly because RoboCop is slow compared to the baddies, which means he cannot dodge every bullet. This means the gameplay is more or less still a matter of "shoot first, before you are shot," but with a lower frustration level, thanks to increased firing rate and the fact that you can now aim diagonally. As if keeping the gameplay faithful to the original were not achievement enough, Park Productions also updates all graphics to crisp SVGA (although it still looks "retro," which is nice), adds cutscenes, good songs in MP3 format, tons of new sound effects, and - best of all - larger and more varied levels. Whether or not you are a fan of the original game, RoboCop 2D is well worth your time if you prefer challenging 2D action games to easy, cartoony ones. With 9 huge levels and literally hundreds of enemies, this game will keep you occupied for hours on end. Highly recommended!
Download full game now: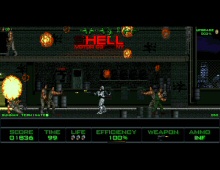 Robocop 2D screenshot
People who downloaded this game have also downloaded:
RoboCop, RoboCop 3, Golden Axe, X-Men: Children of The Atom, Teenage Mutant Ninja Turtles