Game Downloads
You're located in category:
Reaction
Reaction is a fun action game with puzzle elements, similar to Dynablaster in style but with more focus on action than puzzle. Your goal is to kill all the enemies on the board, by shooting them and making use of special boxes that can explode, reflect, or disappear. You can play against another human player in a one-on-one VS. mode, or against 3 computer-controlled opponents.

You play the game from an overhead/isometric perspective, looking down at the players on 3D playing field. The level of damage in percentage terms is shown at the top of the screen for each player. When it reaches 100%, that player dies. A nice touch is that you can choose from 4 types of arena: standard field, reflection field (with a lot of reflection boxes), disappear field (with a lot of disappear boxes), and explosion field (with a lot of - well, you get the idea). In addition to dodging enemy fire and using the boxes, you also have to avoid running into fireballs that move around the arena, and other hazards. If you enjoy anime-style games or action/puzzle hybrids in general, check out this enjoyable old game.
Download full game now: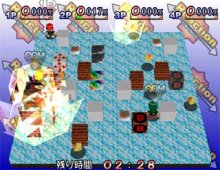 Reaction screenshot
People who downloaded this game have also downloaded:
Super Mario XP, Squeezils, Super Mario Pac, Dif-2 Mirage Thunder, Lion King