Game Downloads
You're located in category:
Rambo 3
Review 1:

Based on the movie, this action game places you in role of the famous John Rambo. Your mission is to free your commanding officer, but first you have to escape the prison camp yourself.

The game may look dumb at the first look, but it's far from that. You will have a lot of weapons at your disposal and not only that. A big selection of useful items is also available so the game is a bit different than other games of similar type. If you liked the movie you will most definitely like the game.

Review 2:

Well... don't we all like to play one of those stupid little Action-Games that don't make much sense sometimes? Just run around and kill 'em - um... I'm sure there's someone to rescue or anything like that, but I can't say I would have the slightest idea of the background-story behind this one. I've never been able to see one of those Rambo-movies - to be honest I turned off my TV after 5 minutes or so since I just didn't see the point in it. But anyway - this game is really playable - at least for half an hour or so. And if anyone can tell me why the enemies start spinning around once Rambo killed them - please let me know. Just don't take this serious and it can be fun.

Review 3:

One of Taito's best games, Rambo III is a fun top-down action game that is very faithful to the testosterone-filled movie it was based on. In case you have missed the movie (lucky you), here is a brief plot: our beefy commando John Rambo is forced to leave his --err-- meditation in a monastery in Southeast Asia (uh huh, sure) to rescue his handler Richard Crenna from the Russians. The action takes place in a jungle deep within Afghanistans, where Rambo enlists the help of Afghan Freedom Fighters to lead him to the Russian base. But Rambo, being human like the rest of us (ugh), fell into a trap and was captured. The action then begins with our hero about to prove, once again, that one beefy commando can dispose of enemies in approximately 1.5 minutes each....

Although it looks similar to dozens of other action games you have played before, the more you play the game, the more you realize that it has a lot of neat subtleties and detail that sets it apart. For starters, you have at your disposal not only a wide variety of weapons (which include bow and bomb arrow, knife, rifle, and time bombs), but also a lot of realistically useful items. For instance, you can attach a silencer to your gun to snipe away at enemies without alerting the whole camp to your presence. You will also find an IR goggles (which won't operate without a battery) that is useful for seeing IR beams (that trigger alarms) and nigh vision. The levels are well thought out, with enough new surprises and scenery to keep you captivated. The level where you get to shoot down a giant Russian chopper is particularly entertaining (yes, it didn't all begin with Half-Life), as well as the building where you must break in to rescue the hostage.

Overall, Rambo III is a very entertaining game that has just about the right difficulty level for an average gamer. It's not Metal Gear in terms of novelty and intuitive interface, but it is definitely one of the best games based on movie licenses. Recommended!
Download full game now: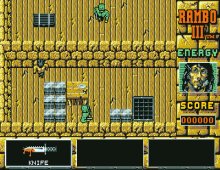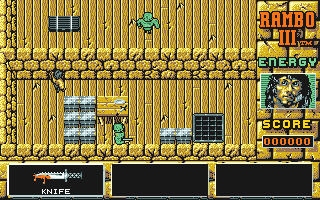 Rambo 3 screenshots
People who downloaded this game have also downloaded:
Super Street Fighter 2 Turbo, RoboCop, Wolfenstein 3D: Mortal Kombat Edition, Double Dragon II: The Revenge, Golden Axe