Game Downloads
You're located in category:
Power Drive
Review 1:

An arcade racing game, with mediocre graphics and okay sounds, the Power Drive is playable after first few hours of trying it. Those of you who will go through novice ordeal and make it, might be rewarded by the larger choice of vehicles you can afford later on. Power Drive was taken originally from Jaguar console and it did look better on it.

Review 2:

A fun cartoonish rally game that emphasizes quick fun over realism, Power Drive from Game Refuge offers a nice variety of tracks, cars, and reasonable car physics to keep rally fans happy.

The variety of tracks is one of the game's highlights. You'll race against the timer or an opponent, 3, 4, and 5 lap races in any of the many race types. One cool feature is the Skills Tests: whenever you finish up one country, you'll be faced with the challenge of completing one of these before you can move on to the next country. These add a great variety to the game and allow you to do something besides the usual lap race. Similar to Micro Machine games and similar arcade-style racers, there is plenty of power-ups scattered throughout the tracks. These will help ya get cash, stop the timer, or put some distance between yourself and computer cars.

Graphically, the game is a more than adequate with cartoon-style graphics. Nothing that really stands out, but with a lot of nice details, especially the scenery. You might even catch a dead antilope laying on the roads, for example. Weather effects are nicely modeled: flip up dirt and watch the snow fly around as you powerslide through and icy corner. Sound effects are a bit sparse, but adequate. Music, on the other hand, is excellent.

The control scheme is very intuitive, and the game is reasonably realistic even with its arcade slant. In snow, for example, your car will slide around, and you will have a hard time getting back on track once you slip into sandy areas. Overall, Power Drive is not a classic by any means, but well worth a look by fans of arcade racers and rally sports alike. Recommended!
Download full game now: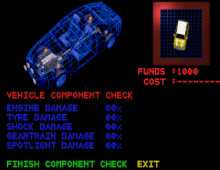 Power Drive screenshot
People who downloaded this game have also downloaded:
K1 Tank, Pinball 4000 (a.k.a. Expert Pinball 4000), Quarantine 2: Road Warrior, Hi Octane, Sopwith: The Author's Edition