Game Downloads
You're located in category:
Pinball 3D-VCR (a.k.a. Total Pinball 3D)
Pinball 3D-VCR (released as Total Pinball 3D in the U.S.) is a decent pinball game from 21st Century. As one can expect from masters of the genre, the game looks good, plays well, and even boasts some innovations in the genre.

Anyone who has played 21st Century's earlier Pinball Mania will instantly recognize the tables in Pinball 3D-VCR: they are the same 4 tables, except presented with more details and in isometric "pseudo 3D" mode. Each of the tables (Tarantula, Jailbreak (my favorite), Kickoff, and Jackpot) is packed with 10 to 16 point-scoring mechanisms. Which is good news for pinball newbies like me, because it means no matter where you hit the ball and how badly you hit it, it will eventually bring you extra points one way or another. Die-hard pinball experts will probably scoff at the ease of scoring points, though. Most of these extras, such as the headache-inducing "multiball" feature, are a lot of fun to score and pretty to look at.

Pinball 3D-VCR is not only a rehash of Pinball Mania, but a fun game that introduces several innovations. For example, you can switch back to the traditional 2D "flat table" view if you find the isometric mode confusing. You can also record your play (hence "VCR" in the title) to watch later. On the downside, the tables are not as interesting as 21st Century's other classics - since they are lifted from Pinball Mania which is not one of 21st Century's best titles, they suffer from the same problems of lackluster table design and awkward ball physics.
Download full game now: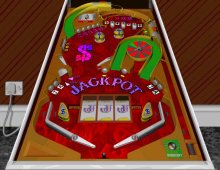 Pinball 3D-VCR (a.k.a. Total Pinball 3D) screenshot
People who downloaded this game have also downloaded:
Pinball World, Pinball Fantasies, Pinball Illusions, Pinball Dreams 2, Pinball 4000 (a.k.a. Expert Pinball 4000)