Game Downloads
You're located in category:
Nerves of Steel
One of the worst FPS games ever made, Nerves of Steel is Merit Studio's failed attempt to resurrect its reputation after the appalling Fortress of Dr. Radiaki. First, the trite plot: from a super- secret underground complex called the "Iron Triangle," the wicked regime of Kim Dung Moon begins pushing its agenda of world-wide indoctrination, called the "purification." You are the "Tunnel Rat." A futuristic digital warrior and one of the most elite fighting mortals ever born. You've been sent by the "Americas" to stop Dung before he succeeds.

Like Fortress of Dr. Radiaki, Nerves of Steel has really no redeeming qualities to speak of. The graphics are awful (with plenty of glaring colors like red everywhere), the monsters are ridiculously easy to kill and pretty stupid, and the level design is downright boring. The only reason I even put this Real Dog on the site is because not too many people know there exists a sequel to Dr. Radiaki that is even worse than that horrendous game. Dung, indeed. Stay away as far as you can.
Download full game now: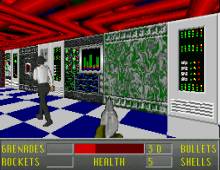 Nerves of Steel screenshot
People who downloaded this game have also downloaded:
CyberMage: Darklight Awakening, Ultimate Body Blows, Last Rites, Violent Myth, Fist Fight