Game Downloads
You're located in category:
Mean Cuisine
Mean Cuisine is another quality freeware gem from Blackeye Software, makers of the outstanding Eternal Daughter. This time, they brought us not another epic platformer, but a nice Pac-Man-style game. The designer's description: "Poo is a strange little blue alien with a BIG appetite, and he's chosen Chef Louis's restaurant as his place to chow down. Keep Poo's belly filled, while trying to avoid being seen by the Chef. In the meantime, the local authorities have smelled some donuts in the vicinity and they will be coming to investigate. If they see you, they'll chase you, and if they catch you, you lose! Belch your way to freedom!"

If you are about to wince at the mention of another Pac-Man clone, rest assured that Mean Cuisine is much more fun than 99% of numerous Pac-Man clones you could download off freeware websites. In true Blackeye fashion, the graphics is crisp and attractive in anime style, and the action much more varied than your typical Pac-Man game. There are many kinds of enemies to deal with, most of whom have very amusing antics, dozens of food items to collect, and plenty of bonuses to keep the gameplay fresh. Even though the game does get repetitive after a while, as a coffee-break title Mean Cuisine provides plenty of fun - 10-15 minutes at a time. Recommended!
Download full game now: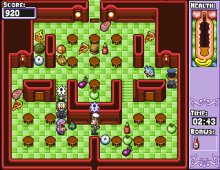 Mean Cuisine screenshot
People who downloaded this game have also downloaded:
Ore No Ryori 2, Luigi & Spaghetti, Mario Forever, Rick Dangerous 2, Pyjamarama