Game Downloads
You're located in category:
Mars Taxi
Mars Taxi is a fun and faithful clone of the 8-bit classic Space Taxi game. Short description on MobyGames: "As an operator of a taxi on Mars, your job is to carry passengers from one platform to another as quickly as possible. You'll have to avoid obstacles on the way and land smoothly in order to not annoy your passengers - which can be quite tricky, since gravity is not exactly helping here. In each of the ten levels, there's a lot of money to be made by skillfully flying your taxi. And you need that money, since flying to the gas station on a regular basis is a necessity if you don't want to crash. Allows multi-player sessions with up to four people in seven extra multi-player levels."

Just like Space Taxi, Mars Taxi is easy to learn but hard to master. The first few levels are easy enough, but after level three or so, things start getting tricky. There are more impatient passengers, platforms, and black holes that appear at random to suck you in. Satisfy enough passengers by delivering them promptly to their destinations, and you will be rewarded from time to time with "bonus levels." Adding to the fun is the fact that you can upgrade your taxi - it can get bigger and move faster, for example. SVGA graphics is pleasant, and the gameplay is as smooth and hectic as Space Taxi. If you like the original, or like arcade games in general, Mars Taxi has plenty to offer, although casual players may find the action a bit too repetitive.
Download full game now: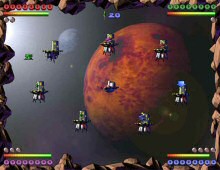 Mars Taxi screenshot
People who downloaded this game have also downloaded:
Full Tilt! Pinball, Silverball Plus 2, No Gravity, PacManWorlds, Pinball 3D-VCR (a.k.a. Total Pinball 3D)