Game Downloads
You're located in category:
Magic Pockets
Review 1:

A decent platform game from Bitmap Brothers featuring a strange, kid-in-fantasy-land plot. From the manual: "The Bitmap Kid was pretty much like every other kid on the block until the day when a Strange Old Man gave to Kid his pair of Trousers. These Mystical Trousers bestowed upon the wearer the power of the Magic Pockets. Now Kid kicks and is in the house. When a Kid's got bottomless pockets in which to keep his toys and boy's things, he's so cool it hurts."

Magic Pockets is probably the least liked of all Bitmap Brothers games, but it's still a very enjoyable platform game with many cute details, extras, cool music and sounds. The intro music is by Betty Boo (Doin? the Do), and is quite memorable although it's (of course) much inferior to the Amiga version. It's overall a pretty good conversion of the Amiga classic, although the level layout seems to be different, for some reason. Still better than an average platform game, although if you're a Bitmap Brothers fan who expects another Gods -style classic, you'll be disappointed.

Review 2:

In this game you go on a 'quest' to get back your stolen toys. To do this you walk around platform levels where you have to kill the enemies. Nice good looking game, with some extra's you'll find out playing.
Download full game now: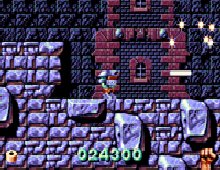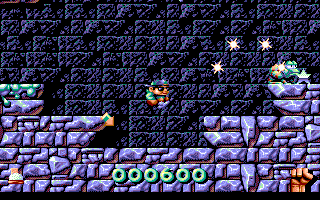 Magic Pockets screenshots
People who downloaded this game have also downloaded:
Gods, Xenon 2, James Pond 2 - Codename: RoboCod, Cannon Fodder 2, Cannon Fodder