Game Downloads
You're located in category:
Macadam Bumper (a.k.a. Pinball Wizard)
Macadam Bumper is a very early pinball simulation with the nice option to create your own pinball tables. For its time quite nice, although ball physics are not comparable with today's standards. It was designed by Remi Herbulot (now at Cryo), as you can see in the lovely intro picture of the game. :) The game assumes to find its table files in the root directory, so you should play the game from a floppy disk or by using SUBST. A slow-down util is required on modern computers. Overall, a fun early pinball game that would predate a slew of more realistic pinball sims later on.
Download full game now: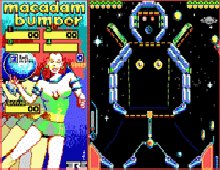 Macadam Bumper (a.k.a. Pinball Wizard) screenshot
People who downloaded this game have also downloaded:
Electronic Pinball, Haunted House, Eight Ball Deluxe, Full Tilt! Pinball