Game Downloads
You're located in category:
Jetstrike
One of the most unknown old games ever, Jetstrike is a great side-scrolling flying game in the spirit of classic Choplifter, but with many more options and gameplay features.

Aside from attractive VGA graphics and a wide variety of terrain to fly over, Jetstrike's highlight is the sheer number of gameplay variety. Options include Missions, Stunts, Combat, Landing, and a very addictive two-player mode. In the two player game, the first player attempts a mission for which points are awarded on completion of each part and for "quality" of flight and landing. A quicker flight is better "quality," and perfect landings yield better scores. After several rounds, the player who has the most points is declared winner. The missions are challenging tests of skill, and include such novelties as flying around balloons, flying planes through tunnels, and landing on runways, etc.

Even in solo mode, the very creative missions will keep you occupied for a long time, and you will be surprised at the game's depth and replayabiloity. One notable quirk, though, is that the controls are hardly intuitive for a 2D side-scrolling game: down is up, and the controls are reversed when you fly in the opposite direction. The game also has some very tough missions that are extremely frustrating for beginners, such as those where you engage in dogfights, shoot at convoys of trucks, or try to land a bomb on a small target. Completing these tough missions, though, is far more rewarding than easy ones because you can earn many more points.

Another fun feature is a "what if?" mode, which allows you to fly a major aircraft from any period and fight against your choice of enemy, again from any era. You can choose the number of computer opponents, and this allows for some ridiculous set pieces where you can vent your frustration, such as shooting down German Fokker triplanes in your F-16 or Sea Harrier. For a real challenge, of course, try firing up the legendary Sopwith Camel and take on the modern giants such as the MiG or the Tornado.

With a great number of gameplay varieties, attractive graphics, and fun two-player mode, Jetstrike is a perfect "next game" for fans of Choplifter and its modern successor Armor Alley. The interface could be better, but at least it doesn't take long to get the hang of it.
Download full game now: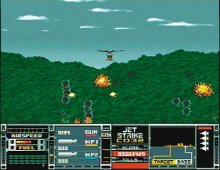 Jetstrike screenshot
People who downloaded this game have also downloaded:
Super Space Invaders, If It Moves, Shoot It!, Star Fox 2, Harrier Attack, Pandemonium 2